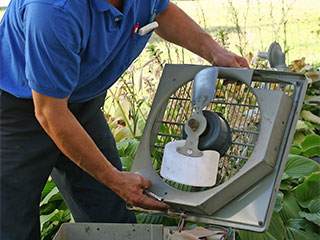 It is easy to figure out when HVAC unit cleaning is required. Usually, you need to have the air conditioner run harder to cool the indoor air to the preferred temperature. You can also see dirt and debris stuck around the unit. The important thing is to deal with the dirt, debris, and any other contaminants without delay.
A thorough inspection makes it possible to pinpoint the exact cause of the problem and to pick the most effective cleaning techniques for the job. All dirt particles and debris should be effectively removed going from the outside in. The area around the condenser unit should not have any debris including fallen leaves. The fins require thorough yet careful cleaning as they are prone to bending. The evaporator and especially its blower compartment should be freed from all dust and debris. If necessary, the drain pan can receive treatment against mold after it has been cleaned.
Air Filter Replacement
If the inspection shows that there is a need for filter cleaning, this job should be done sooner rather than later. In most cases, however, replacement is the better option, as it will give you more effective and longer-lasting results. It is best to use a filter that captures even the tiniest pieces of debris.
Air Duct Cleaning
It pays off to combine HVAC unit and air duct cleaning. The idea is to remove dirt, dust and other types of contaminants from the ductwork and consequently from the indoor environment of your house. Your indoor air quality will improve, and your heating, ventilation and air conditioning system will operate at its maximum efficiency. The accumulations of contaminants should be loosened and then extracted with a special vacuum.
HVAC Maintenance
It is important for the HVAC units, ducts, and filters to be cleaned not only when there is a problem, but on a regular basis. Annual maintenance is usually sufficient for most home systems. If there is damage to any component, appropriate repair or replacement should not be delayed.
Our company specializes in the removal of dust, dirt, mold and other types of contaminants from condenser units as well as from air ducts. Let us give you the wonderful results that you deserve in the least amount of time possible. Call our experts at Air Duct Cleaning Aliso Viejo anytime!