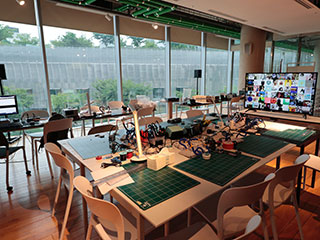 Whether you're in charge of running a Aliso Viejo office or a cafe, your number 1 priority is the safety and comfort of your staff and customers. Keeping the temperature comfortable and the rooms feeling fresh is essential if you want a happy workforce or smiling customers. One key element that many owners fail to take into account is the air itself. This is a crucial mistake since it plays such a vital role in the comfort of their property. Dirty air ducts left uncleaned for long will accumulate all sorts of contaminants inside them. This will lead to noticeably poor indoor air quality. Given the associated negative health effects, and the overall influence over moral and popularity, it's important for businesses to ensure healthy, fresh, and clean air quality indoors.
What Does Ventilation Do To Help?
The role of good air circulation is often underappreciated. In the long-term, the constant movement of air helps prevent dust from building up and mold from growing out of sight. Day-to-day, ventilation also plays a key role. Shifting air throughout the building helps ensure that temperatures are maintained even and comfortable in every room. It's hard to be productive if you're too hot or too cold, and customers will rarely stick around in a shop that's not comfortable, so climate control is absolutely fundamental in any business. With clean air ducts, you get a lot more efficient HVAC features, letting you cool or warm rooms in far less time. And time is money in the business world.
What Problems Can Dirty Air Ducts Suffer?
Ventilation systems will take in all the dust, dirt, and debris that are in the air. You might not be able to see it, but there will most certainly be plenty of pollutants flying around, which the air vents will pick up. Much of this will be filtered out, but some will become lodged within the air ducts themselves. Over time this will gradually build-up, and will begin to release dust back into the air circulation system. The air ducts of your Aliso Viejo restaurant, office, or other business will become a hindrance rather than a way to facilitate clean air. This is bad news, as the air quality in the building will rapidly begin to decrease. For restaurants and cafes, indoor air quality is especially important. Customers will associate poor air quality with bad food.
Blockages in Air Vents
As well as an accumulation of dust, vents can be blocked or disrupted by larger debris. Common causes are loose insulation or construction materials. Even if they don't fully obstruct the shaft, the disruption of the airflow can often be enough to prevent the HVAC system from properly heating or cooling the building. Blockages in the air ducts restrict the flow of clean air, as well as cause heating and cooling of the property to take longer. No business wants to accrue additional expenses, so cleaning the air ducts at least once or twice a year can help you lower your overall costs.
Get Aliso Viejo Air Ducts Cleaned Fast
You won't always be able to tell if there are contaminants in the air or blockages in the ventilation system. Not without specialist equipment and experience. Our air duct cleaning technicians can help with more than fresh air solutions. We also repair air duct tears and clean HVAC units as well as kitchen exhaust hoods. You can turn to us for all cleaning needs for air duct systems, big or small. Call anytime for quick and affordable services.